February 18, 2021
Introducing Delta-8 Day, The New Delta-8 THC Holiday!
What is Delta-8 Day (12/8 aka "D8"), and why do we celebrate it?
In short, Delta-8 Day is about celebrating this cannabinoid, spreading awareness, and, of course, enjoying it!
Let's dive in.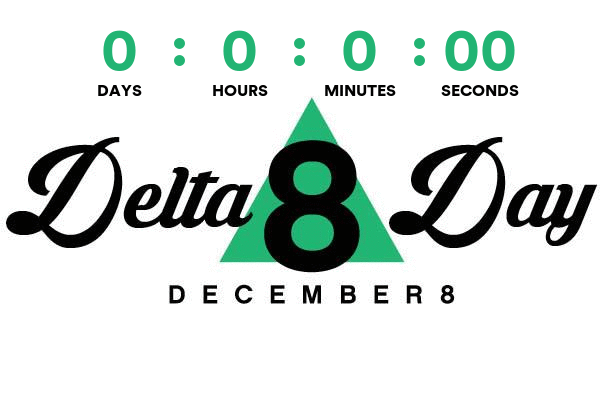 What is Delta 8 Day?
Delta 8 Day is something truly special to us as we have been planning since the very first week we started selling our best-selling blueberry Delta 8 Gummies! We believe that Delta 8 THC is something truly special that every fan of cannabis (or even potential fan) should hear about and try for themselves as it is a fantastic little compound with so many great benefits. Of course, we choose the date December 8th because... well, D-8! Plus, with the stress of the holiday season in full effect, could there really be a better date to relax a bit?
We are using the holiday of Delta 8 Day to spread awareness about this federally legal marijuana alternative and encourage other distributors, influencers, and cannabis entertainment websites to do the same! If we all work together, we could successfully see the emergence of a new cannabis holiday!
How to Celebrate Delta-8 Day
Ok, now here's the tricky part...just kidding.
The best way to celebrate Delta-8 Day is to simply relax, enjoy Delta-8, and spread the word about it!
And if you want to help spread the word about this holiday, you can simply share this blog post on your preferred social media channel!
The more people who know about Delta-8, especially those who could really benefit from it, the more that we can normalize legal, safe, responsible adult enjoyment of cannabis products throughout the United States.
The advent of Delta-8 has led to the development of other hemp products such as Select Spectrum, which contains a 1:1 ratio of CBD to Delta-9 THC.
Only time can tell, but who knows what else can come from Delta-8's rise in popularity!
Stocking Up For Delta-8 Day
As stated earlier, a key component of celebrating Delta-8 Day is enjoying Delta-8!
There are several ways you can go about preparing yourself for 12/8.
The first is that if you are new to Delta-8, it's best to check to see if it's legal in your state. On our website, we have this handy map that can tell you right away if Delta-8 is available in your state.
And if Delta-8 isn't legal in your state, you can always check out Select Spectrum, which is legal in all 50 states.
Then, there are two ways you can go about it. You can go up to your local CBD shop, which tends to have Delta-8 products in many cases, but not all.
Or you can order directly from Hometown Hero!
Unlike marijuana, hemp and hemp-derived cannabinoids are legal in many states and on a federal level.
Delta-8's federal legality means that it can cross over state lines and that most banks or credit card companies will allow you to use a debit or credit card to purchase it.
To put it simply, buying Delta-8 online is just about as easy as buying...just about anything else online.
At Hometown Hero, we offer a wide range of Delta-8 products, which includes:
Plus, we offer a variety of bundles if you're looking to get a deal on buying in bulk or get a combination of products at a discount.
And as a head's up, you can always count on us to throw a  sale on Delta-8 Day.
Cannabis in the United States
To get a more extensive understanding of why we celebrate Delta-8 Day, aside from Delta-8 just being incredible on its own, is the significance that Delta-8 holds in the bigger picture of cannabis in the United States.
So here's pretty much the story so far:
Hemp was a staple crop in the American colonies, used to make many useful things like rope, sails, clothing, and paper.
America becomes an independent nation... with its first flag made from hemp.
Years pass, and it's business as usual for hemp, and it's even used for sealing combustion chambers on steam engines.
Around the late 1800s, cannabis extracts were sold in U.S. pharmacies.
In 1910, the Mexican Revolution occurred, immigrants and refugees introduced America to recreationally smoking marijuana.
In a backlash fueled by prejudice, misinformation, and Big Paper, the Marihuana Tax Act of 1937 effectively outlawed marijuana and made hemp cultivation less economically viable.
The War on Drugs launched in the 1970s, ramping up incarceration, penalties, and enforcement to combat "public enemy number one."
Oregon became the first state to decriminalize cannabis in 1973.
In 1996, California became the first state to legalize medical marijuana, and other states followed.
In 2012, Washington and Colorado became the first states to legalize recreational marijuana, and other states followed.
The 2018 Farm Bill legalizes hemp on a federal level, and other states follow suit.
Ok, so that was a speed run, we couldn't cover every detail, but that's generally it for the most part.
So, where does Delta-8 fit in this story, and why is it so important?
Generally, cannabis legislation has been moving in the right direction. Yes, it has been slow. And yes, some of these things don't really matter unless you're living in a particular state.
Because hey, we're in Texas, after all.
With the 2018 Farm Bill and the development of Delta-8 as a product, for the first time in modern U.S. history, was there a form of legal and widely available THC across a majority of states.
In fact, it's a big reason why Hometown Hero got into Delta-8 in the first place.
For years, many in the veteran community have been vocal about the relieving properties of cannabinoids. However, veterans in many states didn't  have access to readily available and legal THC.
That changed with Delta-8. And in keeping up with our mission of supporting veterans, it only felt natural to create Delta-8 products crafted with quality and thoroughly tested for safety, because our veterans don't deserve any less.
Delta-8 Day isn't just about enjoying Delta-8 (although that's a big part of it). But it's a celebration of a significant step in the right direction towards righting the wrongs of cannabis prohibition and a celebration of THC being available to those who previously couldn't access it.
Now let's get into the impact of Delta-8.
Read More>> Guide to DEA Schedules and Cannabis
Delta-8's Impact
Delta-8's rise has naturally brought in a lot of attention and even praise.
Sometimes that attention is good, like when we landed a spot in:
Sometimes it's not so good, like when the Texas legislature tried to ban it...in which we fought it off and won.
However, to us, the most important impact of Delta-8 is when it has truly helped make a positive difference in the lives of many people who couldn't previously access cannabis.
Here are just a few words from real Hometown Hero customers have said about Delta-8: 
"Exactly what I needed to get through a rough time in my life, and I have never laughed and smiled so much. What a relief! Thank you." - Jake B. (Texas) 7/27/2021
"It seems to take a bit of the edge off and make me feel a little more relaxed. I'm not a problem drinker, but it seems to help me drink less. It's all very subtle but real." - Timothy N. (Alabama) 10/3/2021
"Been using them as needed for various reasons, and they have helped me tremendously. Hometown Hero is my hero!" - Tonna B. (Texas) 9/28/2021
"It feels so nice to be able to unwind and relax my body as the effects begin to hit. I will forever be a fan of these squares as well as Hometown Hero!" - Emily S. (Louisiana) 8/25/201
"I'm a college educated man, a self-employed business owner, and an Army vet. The ability to have something like Delta-8 readily accessible and legal is really nothing short of amazing." - Joe C. (Texas) 3/19/2021
Five years ago, would you have thought to see people enjoying legal THC in states like Texas, Alabama, and Louisiana?
Plus, Delta-8 has helped us on our mission of raising money for charities that do truly amazing things for our nation's veterans. Check out the YouTube video below to learn more about our donation to Soldiers' Angels and about the nonprofit!
Many people across different states have been waiting on the legalization of marijuana to have access to cannabis for years. With the legalization of hemp and the rise of Delta-8, people have had access to this remarkable cannabinoid in more places than ever and it has made many positive impacts. 
And that's a whole other reason to celebrate Delta-8 Day! 
Read More>>
Hometown Hero Fights For Delta-8 Legality In Texas
Delta 8 THC Day Resources
First time hearing about all of this Delta 8 THC stuff and still have some questions? We got you covered with an extensive catalog of any information you might need down below and of course, we are available daily to answer any questions you might have!
Other Hemp Holidays To Celebrate
As much as we love celebrating D8 day, that isn't the only cannabis holiday you can celebrate! Some dates include:
April 20 - 4/20
June 18 - Jack Herer's Birthday
July 10 - Oils and Concentrates Day
August 8 - National CBD Day
October 5 - Commemorating the Victims of Prohibition
November 6 - Legalization Day
Each holiday is celebrated for a different purpose, but all are rooted in cannabis culture. From cannabis activists to iconic codewords, these dates allow enthusiasts to recognize the journey of this plant and all those who made legalization possible.
So if D8 is a holiday you'd enjoy celebrating, learn about the others and participate in the fun!
Conclusion
So that pretty much sums it up when it comes to Delta-8 Day.
Delta-8 Day occurs every December 8th (D8), and it's a day dedicated to celebrating Delta-8, spreading awareness of it, and of course, enjoying it.
Because after all, there is National CBD Day, and there's 4/20, aka "National Marijuana Day."
What makes Delta-8 Day special, in particular, is that it's not just the celebration of a cannabinoid but a significant milestone in the history of cannabis in the United States and spreading awareness.
Although still relatively "new" as a product, Delta-8 has made a significant impact on the lives of many people who couldn't before access such cannabis products. It has changed the hemp industry and the way we talk about cannabis.
The rise of Delta-8 has led to other hemp-derived products such as Select Spectrum.
And if you're looking to stock up on Delta-8 or looking for Delta-8 Day deals, look no further than Hometown Hero.
And finally, no matter how you like to take Delta-8, indoors or outdoors, late at night, early in the morning, smoke it, eat it, dab it or drip it, have a happy Delta-8 Day from all of us at Hometown Hero.